Kentuckians are making plans to join a massive march in Washington DC this spring in support of clean energy jobs, a just transition for workers and communities, and climate action. This year it is clear the march will also be an important show of resistance to attacks on the laws and public agencies charged with protecting our land, water, air, health and climate.
Register now for a bus with stops in Paducah, Louisville, and Morehead
Register now for a bus with stops in Bowling Green and Lexington
The People's Climate March will take place in DC on Saturday, April 29, 2017. The march is timed to fall near the 100th day of the new administration. It is being organized by a broad cross section of labor unions, students, faith organizations, indigenous groups, civil rights organizations, environmental justice groups, and environmental and climate organizations.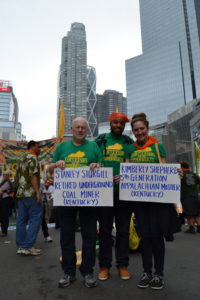 In 2014 more than 100 Kentuckians participated in the first People's Climate March in New York City, including former coal miner and federal mine inspector Stanley Sturgill of Harlan County. At the time Sturgill said, "Today I march because I want to behold a brighter future. But we have destroyed ourselves. We have destroyed our health. I'm here because our political leaders have failed us. Yet I know together we can build a bright future."
Here's how Lexington resident Chris Woolery described his reasons for participating in the People's Climate March:
"Like many folks, I'm active in the People's Climate Movement because climate change and environmental injustice is such a threat to all that we hold dear. But I'm also interested in communicating about the opportunities that we can create with the right solutions. Through climate action, we can help put people to work in meaningful jobs that pay well, benefit front-line communities, and create economic development. We have a chance to take ownership of a new energy infrastructure and to make important decisions inclusively and democratically. We have a golden opportunity to take political and economic power back from folks that are misusing it. And we can create the space to recognize and address the intersectionality of climate change with other forms of injustice. In short, climate action is one of the most important and impactful ways that we can change our world for the better."