The Empower Kentucky project has been a remarkable learning experience. We continue to listen, share, and learn as we work together to build a clean energy economy in our Commonwealth.
---
An Environmental Justice Analysis for Kentucky
KFTC developed an Environmental Justice Analysis for Kentucky to document and better understand relationships among pollution, health outcomes, race, and poverty and inform this plan. Environmental Justice is defined by the U.S. EPA as "the fair treatment and meaningful involvement of all people regardless of race, color, national origin or income" with respect to environmental protection.
Key findings of KFTC's EJ analysis include:
Kentuckians are impacted by pollution from many sources and, while pollution from the energy sector plays a large role, it is not the whole story.
Different pollution sources affect low income and minority communities in Kentucky.
There are strong relationships between exposure-related health problems and vulnerable demographics, such as poverty, educational level, and certain age groups.
Many of Kentucky's coal-fired power plants are located in areas which exhibit cumulative pollution exposure and/or demographic vulnerability.
Our analysis finds that pollution from energy sector sources is "directly, strongly, and positively correlated with health problems in Kentucky." It also finds important differences in the types of pollution that affect Kentucky's poorest counties, compared to the types of pollution affecting our counties with a high percentage of people of color.
This analysis informed many aspects of the Empower Kentucky plan, especially recommendations related to prioritizing health and equity.
Related Resources
KFTC EJ Analysis Executive Summary (PDF)
Environmental Justice Analysis for Kentucky (PDF)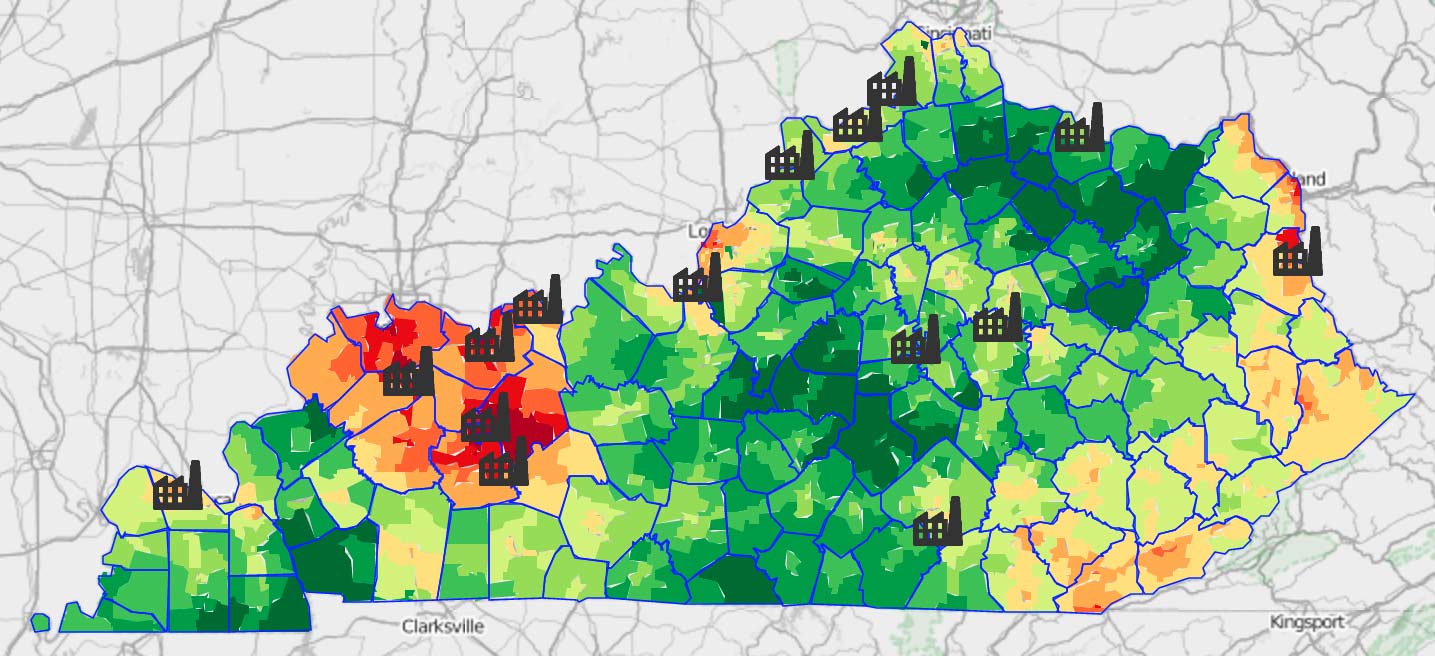 ---
Synapse Analysis of the Empower Kentucky Plan
A key goal of the Empower Kentucky project was to describe a set of no-regrets energy solutions that produce better outcomes for Kentuckians than business-as-usual, whether or not the Clean Power Plan is ultimately upheld. Specifically, we set out to produce a plan that is better for jobs, health, average bills, just transition, and equity than staying on Kentucky's current path. We also aimed to produce a plan that meets or exceeds the Clean Power Plan's requirements for reducing CO2 pollution from Kentucky's power sector.
To accomplish those goals, KFTC members worked closely with Synapse Energy Economics to examine Kentucky's existing energy landscape and develop key policy recommendations. A detailed report by Synapse compares the results of the Empower Kentucky Plan with a business-as-usual scenario in terms of jobs, pollution, average bills, energy system costs, investments in just transition, and overall energy portfolio.
Empowering Kentucky Synapse Analysis-Final focused on the following policy choices within the Empower Kentucky Plan:
Reduce electricity demand by 17% over next 15 years through energy efficiency, with 18% of energy savings coming from programs benefiting low-income households.

Get 25% of Kentucky's electric generation from solar, wind or hydropower by 2032, with 1% of all generation coming from distributed solar.

Put a price on

CO

2

pollution, starting at $1 in 2018 and rising to $3 by 2030; invest 20% of the revenue in a just transition for affected workers and communities; and invest the remainder in energy efficiency projects across our economy and commonwealth.

Don't allow biomass to count as low-carbon or carbon neutral energy source.
Over the next 15 years, the Synapse analysis finds the Empower Kentucky Plan produces better results for Kentuckians than the business-as-usual case in terms of jobs, health, bills, climate, and just transition. Specifically it finds that by 2032, the Empower Kentucky Plan will result in:
Create 46,300 more job-years for Kentuckians than business-as-usual.

Improve health by avoiding 93 thousand tons of SO

2

and 132 thousand tons of NOx pollution over 15 years.

Lower residential electric bills by 10%, compared to business-as-usual.

Invest $387 million in a just transition for Kentucky's coal workers and communities.

Cut CO

2

pollution by 40% from Kentucky's power sector from 2012 to 2032, exceeding the Clean Power Plan's requirement.

Invest $11 billion in energy efficiency across our economy, and prioritize energy savings that benefit low-income households.

Result in a cleaner, more efficient and more diverse energy system.

Build 1,000 MW more solar, 600 MW more wind, and 800 MW less natural gas capacity in Kentucky, and rely less on coal generation, than business-as-usual.
Related Resources
Kentucky's changing energy landscape
Nearly all of Kentucky's energy eggs are in one basket. For decades, more than 90% of our electricity came from burning coal. But now that historic trend is rapidly changing.  In 2015, coal's share fell to 87%, and in 2016 it dropped further to 83%. This is still a very different picture than for the rest of our country. For the US as a whole, just 33% of electricity was generated from coal in 2015.
Kentucky ranks at or near the top of all states for the rates of premature death, lung disease, heart disease, and asthma linked to coal plant pollution, according to the Clean Air Task Force.
Nationally, three out of four African Americans in the US live within 30 miles of a coal-fired power plant. African American children are three times more likely to be admitted to the hospital for an asthma attack and twice as likely to die of asthma.
The amount of coal mined in Kentucky fell by more than 30% in 2015. Coal employment in the state fell to 6,371 jobs by the end of 2015, 24% lower than the previous year.
Kentucky has the fourth lowest overall electricity rates in the US, but our electric bills are above the national average. This outcome is due to the fact that our homes and businesses consume a lot more electricity than the nation as a whole.
KY's historically low rates have attracted many energy intensive industries to our state, including aluminum smelters, manufacturing plants, steel mills and chemical plants. Industrial customers are less than 1% of all utility accounts in Kentucky. Yet the state's industrial sector consumes 40% of all electricity, compared to 27% nationally.
A large percentage of Kentucky homes use electric heat, and many buildings are poorly insulated. As a result, Kentucky households consume about 25% more electricity than the national average.
In many Kentucky communities, residents pay on average 15% of their household income for electricity, compared to a national average of less than 3%. In 2013, Kentucky tied with Alabama for the highest rate of electricity consumed per dollar of state GDP.
Electricity rates have nearly doubled in Kentucky in the last 15 years, in large part due to the rising cost of steam coal and investments aimed at reducing harmful pollution.
Between 2013 and 2016, utilities in Kentucky retired 2900 MW of coal capacity, roughly 16% of the fleet of coal generation plants operating in 2012. According to Synapse Energy Economics, an additional 5.7 gigawatts of coal capacity is expected to retire in Kentucky between 2016 and 2032, under either the business-as-usual scenario (which assumes no CPP) or the Empower Kentucky Plan (which exceeds CPP requirements).
Many of Kentucky's retiring coal plants are being replaced by new natural gas plants. More than 800 MW of new natural gas combined cycle capacity has been built in in recent years, and an additional 1,900 MW is under construction now or proposed to be built. Beyond those planned additions, the business-as-usual scenario calls for an additional 1.3 GW of new natural gas to be built over the next 15 years, while the Empower Kentucky scenario anticipates another .8 GW of natural gas capacity will be built by 2032.
In 2015, Kentucky got about 3.4 percent of our electricity from renewable energy, mostly from hydropower plants built decades ago. Several new hydropower additions will soon bring that total to more than 4 percent. A few utilities in Kentucky also generate a tiny amount of their electricity from a handful of 8-10 MW solar arrays. There is no utility scale wind generation operating in Kentucky at this time. Meanwhile, about 0.5% of our electric generation in 2015 came from burning wood or other biomass.
---
Kentucky and the Clean Power Plan
In the fall of 2015 the EPA issued a rule, called the Clean Power Plan, requiring states to reduce greenhouse gas pollution from the electric power sector. The CPP required Kentucky to cut our carbon pollution by 31% by 2030, and gave the state lots of flexibility and time to get the job done.
Even before that announcement, Kentucky's political leaders made clear their intentions to obstruct rather than lead a just transition to a clean energy economy. In 2014, the Kentucky General Assembly passed a law making it essentially impossible for the state to comply with CPP, which at the time had not even been released in draft form. In 2015, Kentucky joined with other states and coal companies in a legal challenge to the CPP. The Kentucky Energy and Environmental Cabinet never took the first step to gather public input or develop an energy plan to comply with the rule.
Given those entrenched positions, the members of Kentuckians For The Commonwealth decided to tackle the job ourselves. In the fall of 2015 KFTC launched the Empower Kentucky Project to engage Kentuckians and design a people's energy plan. We understood the CPP wasn't perfect. But we believed then, and we continue to believe now, that the rule creates an important opportunity to engage diverse people from every corner of our state in a conversation about what's best for Kentucky, and how we get there.
To comply with the CPP, the EPA told every state to organize a meaningful public process and develop a multi-year energy plan to meet specific CO2 reduction goals. States were required to do "meaningful public engagement" and encouraged to do an "environmental justice analysis" to assess how various policies might affect workers, businesses, families, and health of vulnerable communities. Elsewhere in the Empower Kentucky Plan, we describe steps KFTC took to listen to and involve a broad range of people from all regions of our state and to do an environmental justice analysis exploring relationships between pollution, health, poverty and race across our commonwealth.
The Clean Power Plan is currently on hold until legal challenges are resolved. A court decision could come at any time. The Trump administration is trying to get the case dismissed, but many states and environmental groups continue to push for a ruling. On March 28, 2017, President Trump issued an Executive Order directing the EPA to begin the process of undoing the Clean Power Plan. That process will be long and contested, and the outcomes are uncertain.
However, with or without the CPP, the nation and the world's energy landscape continues to transform, driven by the low costs of renewables, efficiency, and natural gas; the increasing power and competitiveness of energy storage technologies; and the public demand for safer and cleaner energy options. In the midst of so much uncertainty and change, Kentuckians face a clear choice. With or without the Clean Power Plan, we can come up with a homegrown plan to invest in clean energy, create jobs and reduce harmful pollution, or we can continue on the course we are on, while clean energy jobs and investments flow to other states.
---
Additional Resources
Just Transition resources
Prioritize health and equity resources
Defining Health Equity

, by Health Equity Institute at San Francisco State University 

Energy Efficiency and Health Fact Sheet

, produced by American Council for Energy Efficient Economy and Physicians For Social Responsibility, October 2015 

Scientific Evidence of Health Effects from Coal Use in Energy Generation

, University of Illinois at Chicago School of Public Health, April 2013 

How to Incorporate Equity and Justice into your State Power Planning Approach

, a report by the Environmental Justice Leadership Forum on Climate Change, 2016

Trees, Trash and Toxics: How Biomass Energy has become the New Coal

, a report by the Partnership for Policy Integrity, 2014 

Cleaner Air and Better Health: The Benefits of Ohio's Efficiency and Renewable Standards

, a report by the Environmental Law and Policy Center and other groups, September 2015 

A Plan that Tackles Climate Change and Racial Discrimination

, an article in Governing Magazine about Portland, Oregon's plan to address climate and equity, March 2017 
Energy Efficiency and Renewable Energy Resources
Local, Community-based Clean Energy Resources
Climate Change Resources
Invest/Divest Resources
Divest-Invest

, a website tracking divestment and investment campaigns (http://divestinvest.org/)
Kentucky's Energy System Resources
Clean Power Plan Resources
Carbon pricing resources